Travel with Dogs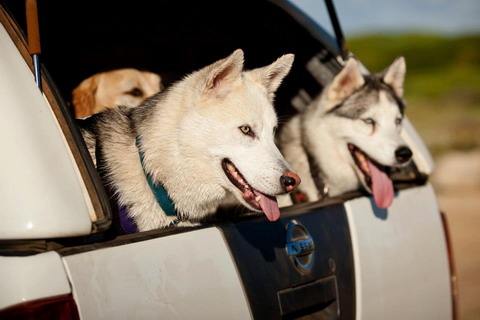 Most dogs love traveling by car, however if you only have your dog in the car when going to the vet there is a good chance that he wont like traveling in the car. It is important to take your dogs to fun places too like dog parks and the beach.
Safe car travel is best achieved by using a dog crate. The carrier, for small dogs can be either a soft sided pet airline carry-on bag or a small crate. The crate should be secured by the back seat seat belt or for larger dogs it can be secured in the cargo area of a van, SUV or station wagon by the installation of a safe, strong wire mesh fence that prevents them from being launched into the seating area in the case of a sudden stop.
Your other option would be to use a pet seat belt and having your dog sit on the back seat. However it can dig into your dogs skin in an accident. It is not very safe having your dog sit on your lap as he can be crushed between you and the air bag and if left loose in the car is likely to go through the window in a accident.
Car Windows: Under no circumstances should your dog be allowed to drive with his head outside the window. Dogs love the feel of wind on their faces and they love their tongues flapping in the wind, but particles in the air can damage your dog's corneas and an unexpected bump could throw a front-heavy dog from the car. If driving a bakkie it is important not to have open windows that don't have safety bars as a dog will jump out if they get spooked or wanting to chase a dog or a cat for instance.
Driving without a canopy is never a safe option even if you tie your dog with a lead to the bakkie as many dogs have jumped off and have choked themselves.
Motion Sickness: Some dogs get car sick. I like to make use of a product called Rescue Remedy tablets, which is a homeopathic remedy that will help calm your dog. You can start by administering the tablets the previous day 1 three times daily. Make sure he has eaten no more than 5 hours before the drive and try to keep him calm and focused by giving him a new toy. If he can lie quietly chewing on the toy, he might not become as sick. Your vet can help with medication when necessary.
Food And Water: Remember to bring a treat, water and a bowel for your dog. Excitement makes your dog pant and panting makes your dog thirsty. This will mean that your dog needs a potty stop along the way especially when you are traveling for more then 2 hours. A adult dog should not be asked to hold for longer then 8 hours at most but in a car he would need a break at least every 2-3 hours and a puppy about every hour. When making a stop be sure to make sure that your dogs lead is fastened to his collar or harness, that he is either micro chipped or has a i.d. tag on. Always stop at a safe place for your dog to potty where it is not close to very busy roads. Also scan the area for dogs roaming around freely.
Leaving Your Dog In The Car: Don't do it! If you absolutely must, do crack the windows, but not enough for an arm to enter and release your dog from your car. A dog can suffer from heat exhaustion in just a few minutes and even die. Be sure that the car is parked in the shade at all times and never leave your dog in the car on a hot summers day.
Be sure to take a first aid kit with in the car to your destination as well as your dogs vet booklet and have the number of the nearest vet clinic in the area that you will be staying.